PROFESSIONALISM AND EXPERIENCE CARING YOUR EYES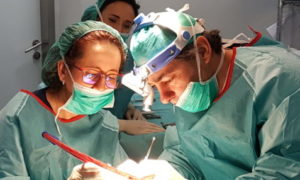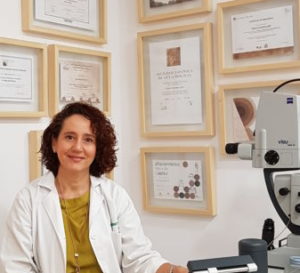 One of the most frequent causes of eye discomfort at present, (such as tearing, ocular hyperemia, irritative conjunctivitis ... etc) is the evaporative dry eye by use of computer screens. Also due to associated autoimmune pathologies (such as Rheumatoid Arthritis),...
read more
The fundus examination, in clinical practice of ophthalmology, is one of the most frequent and necessary tests for the patient who comes to the consultation. Actually, it is done practically in the same way, since the appearance of the eye examination lenses in...
read more
Image above shown , a whitish-looking graft is seen in the scleral bed one day after surgery. Pterygium is one of the most frequent pathologies of the ocular surface. In fact it is one of the most common cases that we deal with in our daily consultation. It is a...
read more
Keratoconus is a chronic corneal pathology, in which, due to an alteration of the collagen that constitutes it causing a weakening of the cornea, thinning and deformity causing an alteration in its shape and irregular astigmatism. All this produces a progressive...
read more
Cataract, myopia, hyperopia, astigmatism and presbyopia with intraocular lenses. Cataract is one of the most common diseases nowadays by increased life expectancy.
With the passage of time, the periocular area begins to swell as a result of weakness in the orbital septum, resulting in the occurrence of the well-known bags around eyes.

Glaucoma is still a major cause of blindness in the world. This is an involvement of the optic nerve fibers, which causes progressive loss vision  irreversibly.
Today, we use muscle relaxant substances.It is applied with injections in the facial area of the eyebrows,crow's feet,forehead and periocular area.The result is a more relaxed and rejuvenated skin.Expression wrinkles are removed,and can be supplemented with low-density hyaluronic acid fillers for the treatment of superficial fixed wrinkles,without modification of facial expression.
Many times childrens are the forgotten, because in many cases don´t complain symptoms related to vision. The good age of exploration of a child is four years.
In young patients with defects in glasses, the technique of choice remains the Excimer laser keratomileusis, or LASIK. Other variants of this technique are assisted PRK PRK or mitomycin..
 Eye Surgery Center Doctora Carretero
Ophthalmology,our passion
With twenty years of experience in clinical and surgical ophthalmology, The Eye Clinic Dra.Carretero born by the illusion, work and love for my patients. In the clinic, all our patients are treated in a personalized way trying to give a professional, and ethical ophthalmology service. We are supported by the best technology, as well as by a group of top professional collaborators to be able to  attend and treat practically all the ocular pathologies.